Posted 13 May
Modern Insurance Magazine Issue 53 Now Available
The latest issue of Modern Insurance Magazine is now available to view, to check it out click on the image below.
The insurance industry often describes itself as a 'people industry'- citing its function is to provide peace of mind to the customer. Human beings are naturally cautious of risk and it is therefore our duty to minimise that risk and help them. But what about those who populate the industry itself? Claims handlers, Brokers, Repairers, Department Heads and CEOs are all equally individual, nuanced and human. It may sound obvious but in our rapidly digitising industry, often a small reminder that there are people behind the screens with lives and experiences as vast and varied as the nature of risk itself, goes a long way. 
To begin, Bernadette Dillon and Dr Sandy Caspi Sable give us their insight on inclusive leadership (page 9). To understand why a lack of diverse thinking undermines performance, we speak to Dr Juliette Bourke and Dr Andrea Titus (page 12). Next up, is an interview with the Head of People Engagement, Culture & Strategy at AXA UK, Zoe Ashdown, to find out how their policies and systems are helping to improve employee and customer engagement, while simultaneously building resilience (page 17). Finally, Modern Insurance Magazine speaks to COO, Andrew Alcock, to find out what leadership looks like at TH March, and how this has changed and impacted behaviour and culture (page 20).  
As always, we have our resident editorial board of experts tackling the industry's problems and focusing on what we need to be discussing right now (page 25). Our Wellbeing forum and Upskilling and Training Forum showcase the experiences and insights from the industry's leading experts in the home, claims, repair, insurance, loss adjusting and tech sectors (pages 34-39 and 49-55). 
In celebration of people, this issue features the 2022 UK Customer Service Excellence Awards that were held by Modern Insurance at Shaka Zulu. The night was all about celebration and recognising people for their achievements! To read about the evening, check out pages 40-46.  
On a more serious note, in this issue you can also read all about the fraud discussion Modern Insurance were fortunate enough to host in collaboration with Digilog. These three Fraud Roundtables feature some of the biggest experts in the industry debating some of the most consequential crimes currently facing our industry when it comes to people (pages 63-70). 
This issue also includes the second INSUR.TECH.TALK in partnership with Insurtech Insights, bringing together pioneers within the Insurtech sector to share their expertise in both specialist interviews and a specialist editorial board forum (page 81). 
Make sure you keep up-to-date with everything Modern Insurance from news to articles and announcements via our website and Twitter @ModInsuranceMag – Until next issue, enjoy, stay safe and happy reading!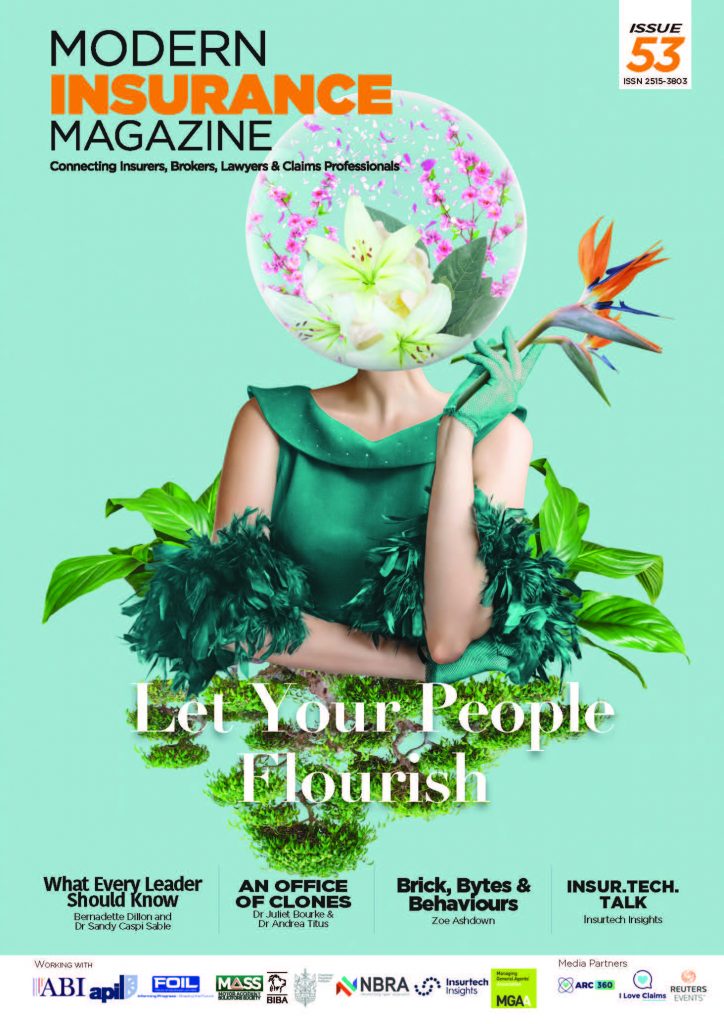 To check out other issues of Modern Insurance Magazine, click here
Related
You might also like:
Posted 18 January

Roundtable event shines a spotlight on salvage

Copy provided by e2e Total Loss Vehicle Management

Read more

Posted 11 January

Experian Partner on Unique Initiative to Enhance Customer Experience and Insurer Risk Data

LONDON: Thursday 6th January 2022 – Duck Creek Technologies (Nasdaq: DCT) announced today that it has entered into a partnership with global information services company Experian which will help general insurance providers in the U.K. market to enhance the quality of their underwriting and claims handling, delivering more detailed risk profiles through enhanced consumer data. The partnership will deliver an on-demand Software as a Service (SaaS) solution using Experian's iCache platform – which integrates critical and accurate risk information during the underwriting process for motor, buildings, and contents insurance.

Read more

Posted 7 January

A Shift in the Recruitment Market 

Steven Lawes of Lawes Consulting Group recounts the impact the last 18 months has had on the recruitment market, including the challenges and triumphs encountered throughout times of disruption.   Insurance is cited as a resilient sector, how has the recruitment market adapted throughout the recent pandemic and shift to home or hybrid working? 

Read more